Chair: See the Committee Chair identification table.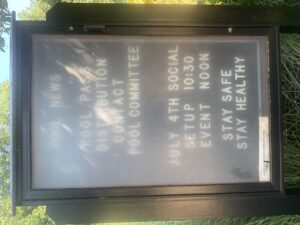 Opening Day is May 28, 2022 at 11:00AM!
Our pool is located at 4750 Roberts Road and is open to all residents of our community with a valid pool pass.
Please see the attached document for the current Pool Rules.
Currently for the 2022 season we do not plan to have the documents listed in this paragraph active. However – should Fairfax County reimplement COVID-related requirements they may be updated and made active (Operating Plan, the Agreement to Assume Risk and Release, and the Pool User Acknowledgement Form).
During the 2022 season we will utilize a SignUpGenius framework to sign-in and exit the pool. This may be accomplished before you travel to the pool or upon entry
Please contact the Pool Committee in advance for any large gatherings at the pool.